Jose Mojica Marins
Director and Actor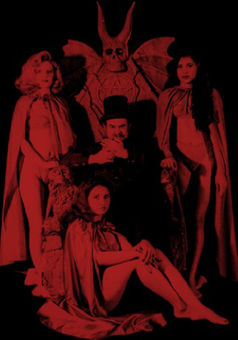 The year is 1963, "Outer Limits" has premiere on TV. In Miami , Herschell Gordon Lewis ( after five day shooting)
scares the audience with "Blood feast".People say that this is the first splatter film,but not so fast..
While this happened in the United States, the people in Sao Paolo, Brasil had the chance to take a
first look at a cheap b&w horror movie, with the title "A Meia Noite Levarei Sua Alma" ( At Midnight i will take your soul) About a gravedigger, dressed in black, long fingernails a zylinder the figure is called ZeŽ (Coffin Joe) .Coffin Joe is searching for the perfect bride but has to do some disgusting experiments to find the real one.
Ze do Caixao is the Invention of a uniqe filmmaker with the name Jose Mojica Marins,
who not only directs but also plays Ze do Caixao . He also wrote most of his films.
The director liked to mix the two persons Coffin Joe and himself into one person, this was his image.
His films are filled with a lot of tabus: Raping, Necrophilia, Torture, Cannibalism, and killing of course
Mojica was born in Brazil, started soon to make movies, since he get his first Super-8 camera, a present from his father.
Since his early childhood he was fascinated from mystic stuff, gypsy carnevals, Macumba
(He says that he was the witness how a dead man came to life after a mysterious trance)
Mojica had nearly no money when he made his films. And he casted the roles with people from "every corner" His first film "At Midnight i will take your soul" was shot on 16 mm.
Many critics in Brazil hated his films, but there were also exceptions..festivals
He was the first filmmaker in Brazil who used Cinemascope!
His auditions for movies were legendary, people had to kiss frogs and other disgusting films to be casted.
other article:
Brazil, one of the largest and most predominately Catholic nations in the world, has had a curious relationship with dictatorships and state-controlled media. One deposed leader took advantage of the relaxed broadcast standards left in his wake by buying radio airtime in the country's biggest urban center. His self-promotional announcements, deliberately couched between weather forecasts, got him democratically reelected president a few years later!
Beginning in 1964, Brazilian military rule and censorship began in earnest. The newly installed junta outlawed political parties and a constitution which had been in effect for less than two decades. Their Fifth Institutional Act gave them full latitude to ban any news or entertainment which might erode public morality.
Underground filmmakers countered the resulting influx of government-sanctioned T& A films or "pornochanchadas" with unapologetically provocative low-budget films. Collectively known as Mouth of Garbage Cinema, after the slums of Sao Paolo where many were produced, movies such as "Killed the Family and Went to the Cinema," "Orgy, or the Man Who Gave Birth" and "How Tasty Was My Little Frenchman" were populated with cannibalistic doctors, cigar-chomping skulls, transvestite detectives, self-castrating men and sadistic undertakers. Artur Omar, Oswald de Andrade and others thumbed their noses at officials with images apparently influenced by Surrealism; including accidental electrocutions, people throwing cream pies, and murderous catfights set to Carmen Miranda tunes.
One of these renegades, Jose Mojica Marins - Ze Do Caixao or "Coffin Joe" to his fans - is currently storming northward with videos of his films from the 60s through the 80s, expressly subtitled in English. Of special interest is"HALLUCINATIONS OF
A DERANGED MIND" a mixed-media compilation of every shot officially censored from his career, prior to the restoration of democracy. This delerium consists mostly of excruciatingly depicted body piercing, satanic-looking wax candles and hefty but scantily clad belly dancers. The crowning achievement, however, is a lingering sequence of Coffin Joe himself - majestically descending a living human staircase.
Even in the 90s, Mojica upholds the motto of Sao Paolo's underground, the Udigrudi. For a garbage-picker's cinema the screen should be dirty, with only beauty pilfered from the squalor allowed. As "Cult Movies" quotes him, from one of his letters, "I breathe and drink the essence of the primitive cinema."
Films:
Demons and Wonders
When the Gods Fall Asleep
The Bloody Exorcism of Coffin Joe
Hellish Flesh
At Midnight I'll Take Your Soul
Strange World of Coffin Joe
Awakening of the Beast
Hallucinations of a Deranged Mind
This Night I Will Possess Your Corpse
Coffin Joe's Visions of Terror
The End of Man - Finis Hominis
The Strange Hostel of Naked Pleasure
Perversion