ANULKA DZIUBINSKA
And "VAMPYRES"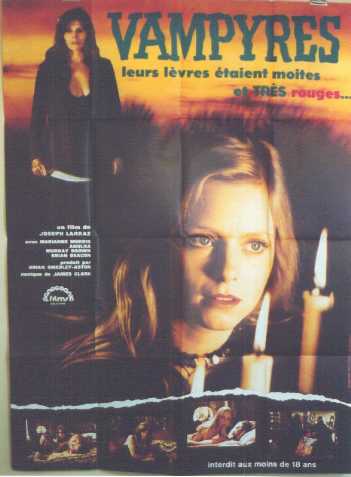 Anulka Dziubinska
Filmography:
Vampyres (1974)...........Miriam
Lisztomania (1975)........Lola Montez
Likely Lads(1976)...........Dawn
Bare Essence(1983 ,TV).......Natasha
STILLS AND EXCERPT FROM DARK SIDE MAGAZINE :
Article written by Jonathan Sothcott , taken with permission
Anulka Dziubinska was born in Preston, Lancashire UK, and like Marianne Morris also came from a modelling background, albeit a more international one, having posed, twice for Playboy( first in 1972, then as the centrefold in the May 1973 issue) prior to signing for the film. "Well, you know i have to tell you how VAMPYRES came about" says Anulka. I was at a cocktail party and i ran into Sir John Mills, and i adored Hayley and i went over to talk to him about my favourite film of all time which was Whistle down the Wind, that iīve seen four million times, And i said to him that i was an actress and that iīd been acting since i was at school and asked him if he had any advice, and he said: Do absolutely everything youīre offered, because everything you do,will give you some experience. The first day i was offered the next day was VAMPYRES! To support Marianne Morris and Anulka, Brian Smedley Aston and Jose Larraz cast cast Murray Brown who had played Jonathan Harker in the dire TV Movie version of DRACULA starring Jack Palance , Brian Deacon and Sally Faulkner.For Anulka the world of low budget filmmaking was a new oneand offered a fascinating location to explore.I took the film and i was really excited she says, I knew that it was a horror picture and i knew that i wasscantily clothed in the script, and sure enough Josse persuaded me to get starkers!
But the most interesting thing was Harefield Lodge, where we filmed it. A beautifull old home that was going to wreck and ruin. But the library was just full of beautifull books that were suffering from tremendous damp apparently and i remember going through all the books and reading them. That house apparently was where Winston Churchill and De Gaule met in secret during the war. The National Trust took it over after that. I was furiously through all the books in the library to find the signature of either oneof them or a book with both of their names in it. I wanted to take
a piece of history away with me from that film more than anything else. That library was very, very fascinating. Anulka recalls that Jose Larraz was an absolute gentleman and very dear. I was terribly young and i was very impressed with anybody who was already a profesional. I was awestruck by everybody. I thought he was a lovely man, and i thought he was a great director, because he really understood what he wanted in each scene. So working with him, was very easy, for oneīs first film. One would think that all directors do that, but a lot of the time they donīt really know untill they get there. He was sensitive, because i was a baby and being naked was very frightening. IN the end it was an overwhelmingly good experience though we were freezing cold, and there was so much blood that i smelt like peppermint
and my hair was pink for months afterwards!

By April 1974, Vampyres was in the can, and cast and crew dispersed. Larraz and Smedley Aston eventually sold the film to Rank, and after sustaining 3 minutes of censor-inflicted cuts. Vampyres was released in Britain in the spring of 1976 on a double bill with the re-released The Devilīs Rain. Despite being given little push by a distributor unsure how to handle it, the film took a healthy profit in the provinces and the package opened in London at the ialto in July. In itīs first week it needed impressive much money, entertaining the box office charts at number 8. Though Returns were healthy, the film failed to realise itīs full potential when The Omen was released a few weeks later, washing away all competitions and becoming the biggest grossing British horror film of the seventies. Vampyres feared even better abroad. where it was largely known under the longer title Vampyres-Daughters of Dracula, becoming one of the most succesfull films in AUstralia and doing credible business in the United States, where Playboy declared it had, "More Sexappeal per puncture, than any Dracula outing on Record"