Tiziano Sclavi, who wrote Dellamorte Dellamore, is also well known as the autor of Dylan Dog, a very popular comic in italy.
Sadly, the Dylan Dog comics are nearly unknown in the rest of the world. That´s a pitty ,because when you compare it
with, for example Witchblade,Darkness,... you will see that Dylan and the figures have real character. To say it simple, Dylan Dog isn´t just a good looking comic for the eye ...
One of the trademark is also,that the Dylan Dog comics are in some ways extremely violent. Which isn´t everybody´s taste.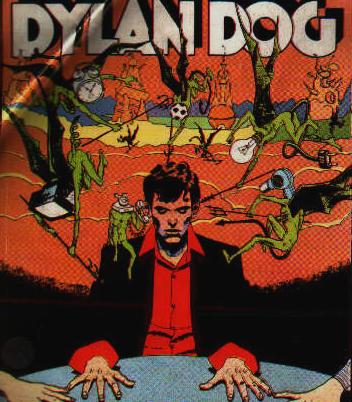 Here are the most important characters :
(Article found on the web)
DYLAN DOG:
A black coat, red shirt, waked slacks and boots. His past is pretty a mystery: he's been working for Scotland Yard, then he turned himself into a private detective to inquire into …nightmares. If it happens to you to go to the number 7 of Craven Road while staying in London, his house, you could read the warning 'Nightmare' investigator' and hear the sound of his door-bell: just a scream!
In a short while Groucho will come and open the door, welcoming you with his well known witty remarks and leading you to Dylan. He soon starts to listen to what you've got to say lying on the chair in a very funny way and joining the tips of his hand-fingers: he will take care of you if something mysterious is going on, demanding only fifty pounds (charges excluded) a day in return for his services. To tell the truth, he helps only fine girls, asking no money and falling in love with every of them; that's why he often gets into debts! He loves movies, music, and try to play clarinet.
GROUCHO:
Groucho is Dylan assistant, even if we don't know which kind of money he can get since Dylan is always penniless! Well, he is a friend of him and helps funnies to get this huge success. He's a Groucho Marx copy, the most sweeping of the Marx brothers, and he's used to say (just like him) a lot of witty (or unwitty ?!) remarks, chosen among the ones sent by readers every month. He keeps company to Dylan because he carries the gun of his friend: if you ask Dylan why he needs Groucho to get his gun he says "that character, Groucho, doesn't fit my pocket!"
The detective inspector Bloch:
Bloch is a real friend of him, just like a father, but he was also his head. This character has been changing, increasing his attendance on the funnies: now you can find him on every story. Not physically strong and quite bald, he doesn't enjoy jokes, smiling or crying (he's used to say things like 'last time I smiled it was 1943' or 'last time I cried it was 1952'); what he really longs for is the pension, even if Dylan puts him into troubles when he asks for his help. For sure, Mr. Bloch is not so bad at all: he likes letting the others to believe it.