Jean Rollin Interview from "NecronomicoN"
(Excerpt)

Scene from LIVING DEAD GIRL (Marina Pierro and a Victim)



You have stated that the poet Corbiere and the artists Druillet and Trouille are among those who have inspired your work - in what way?
Corbiere was a poet of the sea. And the sea is most important to me. My first short film was an evocation of Corbiere on a beach near Dieppe. i was young, no money, no material etc. But i was there, on that strange beach covered in stones, deserted, with just
the falaise and the seaguls. And in my mind, i said: ,,One day l'll come back here with all the possibilities for a real shoot. For me, now, after six or seven films shot on that beach, lt mixed wlth the remembrance of Corbiere. Druillet has nothing to do with my work, he is just a friend. After the shooting of Le Viol Du Vampire ask all my friends who can take a pencil to do an Image for the poster. Druillet brought (an image) which immediately became the film's poster. Clovis Jouille paints, i think, as film. When i see some of his paintings, it seems to me that they could be photos from one of my films. The same strange arrangements of the elements, romantic-expressionist protagonists, expression of the imagination. As for Magritte, Jouille paints people and objects in a realistic, ultra-realistic manner. lt's the arrangement between the elements which forms the surrealist way. Paintings like Stigma Diaboll, La Viole'e Du Vaisseau Fantome (The Raped One From the Haunted Ship - could be the title from a Rollin film!), L'Heure Du Sortilege and so on could absolutely be images from my mind and my films. They are part of the , mystery of the imagination" i like so much. If you look at a painting like Mon Tombeau (My Grave) lt can recall many images from Le Viol, Le Frisson or Requiem.
What influence did the likes of Georges Franju and Luis Bunuel have on your career?
lt's the same kind. Bunuel shot visions like Druillet did paintings, or Magritte. We can take some images off for film, those images speak for themselves. They are independent of the story, they are the voice of Bunuel himself. So, in a film so banal in appearance like Susana or even El, everything is shown by the vision of the artist. Personally, i am jealous of an extraordinary Vision i saw in one of Bunuel's last French films, i don't remember which one but: a man doses a coffin, and some gold hairs from the dead girl inside are visible. Such imagery leaves me full of exaltation. There are many such images in Bunuel films. Franju is the author of the greatest film of the genre, Les Yeux Sans Visage. Perfection of the script, of the actors, of the light, of everything. l was haunted during many, many years by the end, Edith Scob walking in the park with her face covered by the white mask, and the white birds and that music... I have tried to find that atmosphere of dream, poetry and madness in many of my films. Same reflections about Judex. lt's a serial, like a serial. For me, where the cinema Is near the surrealist poetry, near the primitive mind d of childhood, it is the serial. My remembrance as a child is of the serials i saw after school everv Wednesday - Zorro Fighting Legion, Mysterious Docteur Satan, G-Men Versus The Black Dragon, etc. i think l personally have shot two serials:
Viol Du Vampire and Les Trottoirs De Bankok. Here a critic said; ,,Rollin has done with Bankok, the same film as his first one, Le Viol, twenty-five years after." And it's true!
Bankok is a kind of ,,Fu-Manchu" and the film was improvised to a great degree like Le Viol. When i was shooting it, i was in the same mindd that i was for Le Viol. i was twenty years old again!

Your first fantasy film Le Viol Du Vampire was considered daring for the time and released during a turbulent period in French history - in what way did this film and the critical reaction to it, shape your future career?
Le Viol was a terrible scandal here in Paris. People were really mad when they saw it. In Pigalle, they threw things at the screen. The principal reason was that nobody could understand the story. But there is a story, i swear it! Now, after such a long time, i think the principal reason is that the film was supposed to be a vampire story . The audience knew only Hammer's vampires and my film disturbed their classical idea of what such a film had to be. And outside it was the revolution, so people were able to exteriorise themselves. The scandal was a terrible surprise for me. i didn't know that i had made such a ,,bizarre" picture. For me, it was so simple! In all the county, throughout France, the film was a scandal. In my area, a little village, the priest said to his audience in church that they must not see the film on release at their local cinema... i was the devil. And even the fans of such films were disillusioned and the critics wrote horrors about me. A great newspaper, Le Figaro, wrote: ,,this film ,.was certainly made by a group of drunk people, probably medical students. lt's a joke". i thought that my career was finished. But many people came to see that scandalous film and the producers asked me to do a second one. La Vampire Nue was not so delirious. But i kept one element from Le Viol, the mystery, like in the old serials...
Vampires burst from grandfather clocks, lovers are speared on the same stake - you are noted for your imagery not your narratives - is this fair comment?
The answer is this: the imagery in my films is certainly more important than the story itself. But the stories are done to provoke such images. In a certain way, the stories are ,,mad love" stories and the images are surrealist visions. The mixture of both makes my films.
In some ways your films break gender stereotypes - often two females are the lead players - is this a conscious attempt at ,,sexual equality" or a male reaction in showing seductive figures, often engaged in lesbian activities, or something else?!!
Why the qirls? really don't know. Maybe a psychoanalyst can tell! Even In my books, Les Demolselles De L'Etrange are two, The Vampire Orphans of course and many more. About the love scenes, i must confess that, for me, i prefer to see (and show) two girls naked rather than a girl and a man. For me, a naked girl is more interesting, for sensuallity and for poetry , to put her In a clock or in a chimney, or anywhere except a bed. Using things for unexpected uses is the base of all surrealist painting. See Max Ernst, Marcei Duchamp. When Duchamp painted Nude Walking Down A Stair, lt's no more a simple stair. lt became the stair wlth a nude on lt. Understand? My clock Is no more a simple clock, lt's a clock wlth the vampire girl in lt (Le Frisson), then the gin killer hides in lt (Killing Car). lt's become rollin's clock!!
Regained memory and lost innocence also appear to be central themes in your work -why?
Every man is, consclously or not, researching, remembering his chilldhood . When i was a
child, there was no Tv, only movles. i saw so many films... with the Innocent eyes of a
child, Maybe i am trying to recapture these moments and make films wlth the same eyes had to see Mysterious Docteur Satan or Jungle Jim..
These chilldhood memories would include such recurring locations as Dieppe beach?
As i said i was fascinated by that strange beach. i have seen many beautiful beaches in my life, but this one, i don't know why, for me represents mystery itself. lt's a surrealistic beach. Three elements: the falaise, the sea and the mouettes
How have you enjoyed working with such actresses as Brigitte Lahaie, Marina Pierro and Francoise Pascal?
Brigitte is a pleasure to work with. She is quiet, she really likes to act, to play, and she does what is required of her role. When i took her for Nuit Des Traque'es i was sure she would be great in the scene where she becomes insane slowly. And that sequence was the most important in all of the film for me. And i was right. Brigitte in that part was e'mouvante. Marina Pierro is Italian. Her temperament is fiery lt was good for such a character in the film. Francoise Pascal is very professional. Working with her was interesting because, to the contrary of most girls l'd directed before, she really was into the story, trying to bring ideas, to discuss what i had in mind. Her performance in the film is great. If she can find such roles to play she can go far, but what became of her?
Levres De Sang is widely regarded as your best film - which is your own favourite and why?
I have no favourite. Maybe the next one! Le'vres De Sang is certainly my best script. The story was really good, based on the childhood memories that the hero had forgonen Every person is sensitive to such a story. everybody has had a childhood love at sorne time, and in the film the childhood love came true! Of course l like Le Viol because it was so attacked! But i have a little love for Requiem and for Bankok. But the best one is
Orphan Vampires, probably.
La Rose De Fer has been described as a horror Version of Romeo And juliet - do you agree with this description?
One day, a stupid journalist, who understood nothing of my films in general and in particular asked me: ,,But at the end, what is that film about? What did it mean. i answered: ,,What! You don't see it's my version of Romeo and Juliet? You have the boy and the girl and the cemetery and the family trving to separate them! But maybe it as you can see the film like that - but for me it was just a joke.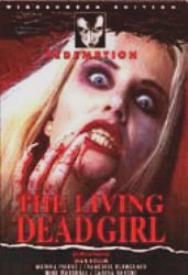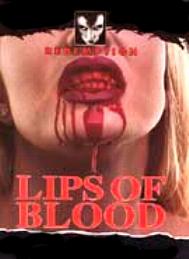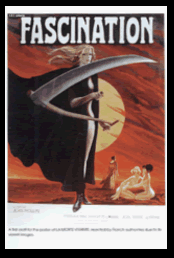 FILMOGRAPHY:
Les Amours Jaunes 1958
Ciel de Cuivre 1961
L'Itinéraire Marin 1963
Vivre en Espagne 1964
Les Pays Loin 1965
Le Viol du Vampire (Rape of the Vampire / La Reine des Vampires / Vampire Women) 1967
La Vampire Nue (The Naked Vampire) 1969
Le Frisson des Vampires (The Thrill of the Vampires / Sex and the Vampire) 1970
Requiem pour un Vampire (Caged Virgins / The Crazed Vampire / Requiem for a Vampire / Vierges et Vampires / Virgins and Vampires) 1971
La Rose de Fer (The Crystal Rose / Nuit du Cimitière) 1973
Les Démoniaques (Curse of the Living Dead / Deux vierges pour Satan / L'Isola delle Demoniache / Tina, la Naufrageuse Perverse)
Tout le Monde il En a Deux (Fly Me the French Way / Bacchanales Sexuales)
Jeunes Filles Impudiques1974
Levres de Sang (Lips of Blood) 1975
Phantasmes (The Seduction of Amy / Once Upon a Virgin)
Raisins de la Mort (Grapes of Death / Pesticide) 1978
Fascination 1979
La Nuit des Traquées (Night of the Hunted) 1980
Zombie Lake (La Lac des Morts Vivants / Lake of the Living Dead) (as J.A. Laser)
Les Échapées1981
La Morte Vivante (The Living Dead Girl) 1982
Les Trottoirs de Bangkok (Sidewalks of Bangkok) 1984
Emmanuelle 6 (partial direction / writer) 1988
Perdues dans New York (Lost in New York) 1989
La Griffe d'Horus 1990
Killing Car (La Femme Dangereuse) 1993
Les Deux Orphelines Vampires (The Two Orphan Vampires) 1995