Lucio Fulciīs Horror & Thriller - Beat Records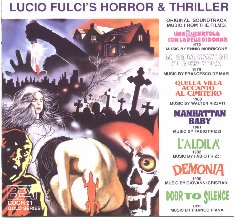 What can be said about this excellent compilation from romeīs beat records? Actually there are not more words necessary that this is a must have cd, but still here a short description and review of the cd: the cd consists of several tracks from these fulci films: Lizard in a Womanīs Skin, The New York Ripper, House by the Cemetery, Manhattan Baby, The Beyond, Demonia, Door to Silence. the first track "La lucertola" is to me the best track of the cd starting with the music from "Lizard in a womanīs skin", the music is from ennio morricone. A wonderfull typicall theme for a 70īs giallo, to me its a timeless track. Three other tracks follow from this film. then come four tracks from the "New york ripper", of course this is much into 80īs music but still quite interesting, then two tracks from "House by the Cemetery", very "horror" like classical music, nice, and what should i say about the terrific music from fabio frizzi for "the beyond"!?! He delivers also fine work for "Manhattan Baby". "Demonia" to me a rather disapointing film from fulci scores with a surprising good soundtrack! very atmospheric and creepy, very nice tracks has this film to offer. Definitely some of the best here, but actually thereīs every track here worth to hear. Door to silence comes with rather standard music in jazz style, not so bad but not great like the other tracks from the compilation so these tracks dissapoint a bit. I kinda missed the excellent music from fulciīs "Black Cat". The last track has something very special to lucioīs fans and has a speech from him. All in one, this is a very good compilation and a must for everybody who likes lucios films and horror soundtracks.
"E... tu vivrai nel terrore" - various artists - Black Widow Records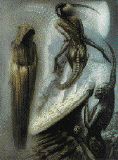 Like the title of this cd (coverartwork from H.R. Giger) says, along with a book called "incubi notturni" this is a tribute to the masters lucio fulci, dario argento, and mario bava, the book is great and is with forewords from antonella fulci, argento pal luigi cozzi, and argento himself! it starts with the history of horror starting with the black/white horrorfilms from universal, covering then of course the italian gothic films with barbara steele, then also a very good article about the giallo cinema, mentioning of course mario bava and co. also a nice article is written from director Al festa about the attraction to "rock" music and horror films for the younger generation. this is a terrific book, but hey a cd comes also with it. and this is equally terrific. several artists have chosen one horror film and covered a track from it or simply created a totally new song, for example italian cult band death ss delivers a cover version of jerry goldsmithīs infamous and great "ave satani" track, it comes very close to the original and with just a few "adjustments". this one or the old version both are great songs and this is i think more a homage to it, cause you cant make this track really better. then come Malombra choosing ken russelīs "the devils", a slow and moody gothic track. Every track here is very good, so its not easy to speak of "highlights" ,but for me one of the favourite tracks on this disc is from the band Northwinds, other highlights is surely Presence who have chosen the film "Exorcist" as inspiration, with an impressive female voice. Al festa delivers a surprising excellent track that could have also been made by Claudio Simonetti in the 80īs. A very impressive track that would also fit to the gothic genre! The band Iconae makes a cover version of Keith emersonīs "Inferno" music, the track "Mater Suspiriarum", like the "Ave Satani" track actually again something that canīt be improved, so this one comes also very close to the original. The track from Sundial is also very good, not dark like the other songs but very psychedelic. Disc two opens with claudio simonetti track, inspired from the film "Aliens", a typicall simonetti song where you cant complain. Helden Rune come with a very dark and atmospheric track that would fit perfectly to every black/white gothic horror film. Morte Macabre come with their own version of the "Gates of hell" theme, again very interesting . Absolute highlight for me on this disc is the track from Humus, starting very obscure, dark and atmospheric and drifting then into the psychedelic territory. Absolutely speechlees when you want to say something about this track. Another ultra highlight is the track from Somnambulist(sleepwalker) that is especially dedicated to the masters dario argento, mario bava, lucio fulci. This track cant be described in words it must be heard simply. Then another personal highlight is the track from Una Stagione allīInferno, a nice song. So to bring it to an end, this two cds and the book are not just good, they are more than great and for every fan a must! I HAVE SPOKEN.
following artists appear on the cd : Disc 1:Eugenio Mucci,Death SS, Tenebre, Northwinds, Malombra, Akron, Al Festa (track from his own film "Fatal Frames"), Wounded Knee, Presence , Iconae, Sundial, God.zilla, A Piedi Nudi, Standarte
Disc2: Claudio SImonetti, Ars Nova, Lingam, Helden Rune, Humus, Morte Macabre, Abiogenesi, IL Segno del Comando, Bevis Frond, Somnambulist, Una Stagione all Inferno, The Black, Nekropolis, Mottorismus, Maethelyah
The Films of Jean Rollin - Lucertola Media

The soundtrack compilation "The Films of Jean Rollin" is another reason why Lucertola Media is one of the best labels. This disc contains the music from these Rollin Films: Le Frisson des Vampires, La Rose De Fer, Fascination, Living Dead Girl, Lost in New York. Total Running time of this cd is 67Min. 40sec. You canīt complain theres not much on these cd but you can complain about the running time of the songs, most of the music tracks run just 1 to 2 minutes. a lot just 30 seonds. it had been really better if the tracks are longer, for example the first track from La Rose De Fer: "Generique" one of my favourite tracks runs just 1min 30 sec. too short, before it gets in your ears its allready finished. The same is with the majority of the other tracks, you have the impression that you listen to "sound fragments" here. But this is only thing to criticise, the music itself is very good and interesting. All in one the groundtone of this cd is rather melancholic and morbid like rollins films of course! (just listen to the great tracks from La Rose De Fer). The fifth track from La rose de ferīs music is called "Bruits et Voix dans le Cimetiere" what i think means voices from the cemetery. This is the longest running track on this cd with 5.41 sec. also one of my fave tracks. It consists of quite slow, dark and moody music in "company" with some strange male voices, they dont say a real word , they just kinda moan or laugh, this track is quite atmospheric and morbid and fits perfectly to La Rose De Fer. The booklet is very nice made with Danze Macabre "foreword" from Jean Rollin himself speaking about his soundtrack experiences with his films..also info about the composer Phillipe DīAram who delivered most of the music for this cd. Bunch of rare (never seem them somewhere else, except some stills from Fascination) black/white stills from the featured movies, (Quite possible they were once shown in the french FANTASTIQUE Magazine, where Rollin also wrote Articles about Gaston Leroux) Especially interesting to see the stills from the rare La Rose De Fer. (Also to see on the cd cover the great still from the film where the lead actress holds the skull infront of her head). La Rose De Fer (so far) compared with Living Dead Girl didnt gain so much attention and publicity (a reason for this is surely cause its not so commercial). On the back of the booklet also original poster artworks for Le Frisson Des Vampires and Fascination. Le Frisson des Vampires poster very 70īs and psychedelic looking like the film! Its a shame this times will never come back.. The cd is limited to 1200 copies and is another reason why you shoulnīt wait to buy this cd. Its good to see that in a world enslaved by commercialism/kapitalism ( a world with so many limited people who dont understand...as the "Scandal" of Rollins "Le Viol du Vampire" in Paris proved..)companies like Lucertola Media exist who obviously didnt release this cd to make the big money, but to offer Fans of Jean Rollin something special and most fans i think are thankfull for this. I am.
---
(Black) Metal:
Interview with Giordano Bruno (EVOL)